Features
1.Equipped with large stocker in machine front part, feed the materials into the unscrambler with the elevator, then send to the auto feeding channel after auto selection, the auto feeding device consists of convey pipeline made of aluminium alloy and stainless steel, feed with wind power and PLC control. Equipped with surface treatment device and can operate independently according to the material of the cap, used to change the stickiness and adhesion, thus can easily get an attachment of ink onto the print surface.
2.Adopt the well-designed magnetic plate printing head, two sets of heads, two colors for each set, which can carry out register color method and also inktrapping printing method, as well as the up/down, left/right micro adjustment device. Each set head can be adjusted individually. Specially designed inkwell, easy to mount, dismantle and clean, can reduce the ink loss and improve the production efficiency.
3.Using the famous Fusion Uv lamp, the automatic temp control and air suction system can avoid the lamp over heated and maximize the lamp performance.
4.With advanced anilox roller for gloss oil, give the printed surface higher lustrousness.
5.Fully automatic discharging, automatic counting, automatic packing and switch encasement, manual encasement and counting is not needed, resource is saved.
Technical Parameters
Printing Product Size (Dia.x Length):

(ø28mm-ø38mm)x(19mm-22mm)

Maximum Printing Area:

ø34mm

Maximum Running Speed:

90.000pcs/hr

UV Lamp Power:

1.8kweach

Power Requirement:

380V 3phase 50Hz(47)A,220V 62 A

Compressed Air Pressure Requirement:

5-7bar

Power Consumption:

18kw

Machine Dimension (L x W x H):

6400mmx1500mmx1700mm

Weight:

6400Kg

Print Color:

1-4Color+Lacquer

UV System:

3

Production Line Dimension (LxWxH):

15000mmx3200mmx2600mm
Application areas
This model is a fully automatic printing production line for round plastic bottle caps. It is mainly used for the production of mineral water bottle caps and beverage cap tops. The combination printing is carried out in a printing-drying principle, and the printing plate is adsorbed by a well-designed magnetic roller, and a combination of a single color and a four-color varnish can be used for color matching or color mixing. And the replacement of the printing plate is convenient and quick, and the pad-type printing design is used to overcome the printing difficulty caused by the high and low error of the bottle cap. Controlled by PLC, touch screen operation, easy to adjust.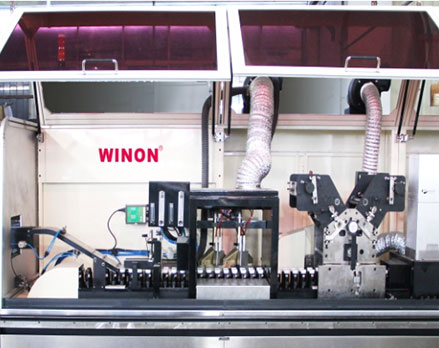 ●
This machine is a fully-automatic printing production line for round plastic bottle cap, it is widely used for printing on mineral water bottle cap and drinks bottle cap.
●
Machine design is based on the principle of dry after each print, equipped with unique magnetic rollers, print from single color to four colors with gloss oil, can adopt register color method and also inktrapping method. It is very convenient to replace the workpiece, with the rubber mat rolling print design, can overcome the difficulties caused by cap height difference.
●
Machine is controlled by PLC, touch screen operation and easy to operate.